Shock Absorbers
New for 2018: Maysan Mando shock absorbers by GT Automotive
GT Automotive in partnership with Maysan Mando
GT Automotive are delighted to announce the formation of a strong partnership with the distinguished shock absorber specialist Maysan Mando.
In early 2018, GT Automotive became the sole distributor for Maysan Mando parts in the UK, and we are excited to offer our customers in the UK aftermarket the full range of their OE quality shock absorber products.
GT Automotive's partnership with Mayson Mando builds upon our existing relationships with several other key OE manufacturers, and also reflects our desire to expand our range beyond engine components to other quality products.  In partnership with Mayson Mando, we are committed to offering the same high level of customer service and quality distribution as we do with the rest of our quality range of products.
Although Maysan Mando is new to the UK market, the brand is globally renowned and GT Automotive is offering an exciting opportunity to be one of the first to distribute this strong brand in the UK aftermarket.
Maysan Mando: company profile
Maysan was founded in 1969 in Bursa and was the first manufacturer of strut & suspension modules and shock absorbers in Turkey. Ongoing investment meant by 1976 the facility had developed to OE manufacturing level and Maysan began production for Renault and Mercedes Benz.
In 1997, the global corporation Mando, a large producer for South Korean OEMs, bought a 50% stake in Maysan to embark on a joint manufacturing venture.  Mando had nearly 11,000 employees globally with 23 manufacturing bases across the world, and the combination of Maysan's product expertise with the impressive management, design and production capabilities of the Mando corporation, led to Maysan Mando becoming a major player in the OEM market.  With their remarkable portfolio of shock absorbers, Mayson Mando's list of OEM customers now includes Renault, Hyundai, Kia, GM UK, FIAT-Tofaş, Ford Otosan and Mercedes Benz Türk.  Further accreditations also hail from the FORD Q1, Hyundai-Kia Motors 5.0 Star award and Renault ASES B-Rank.
With a current production capacity of over 7.5 million shock absorbers annually, Maysan Mando are using their OE credentials and substantial R&D department to create an impressive aftermarket offering; this presently covers a wide range of applications with nearly 600 part numbers. With new product development at the forefront of the company philosophy, Maysan Mando's aftermarket offering is continually growing.
Maysan Mando's strong track record of partnerships with a variety of OEMs, plus the huge capacity of their factory and their unwavering commitment to offering full R&D services, global material sourcing, and high automation manufacturing, means that their prices are highly competitive, particularly against increasingly fierce competition from Far Eastern manufacturers.  This highly competitive pricing, alongside their strong commitment to maintaining an offering of top quality products, have made Maysan Mando a formidable leader in the shock absorber product industry.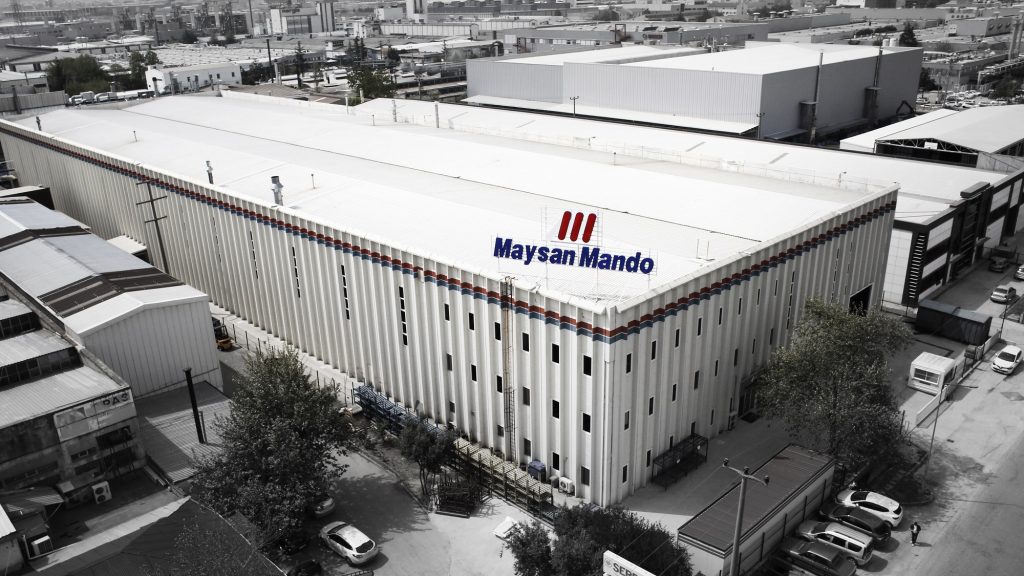 Maysan Mando's R & D: a commitment to quality
Maysan Mando prides itself on its R&D services, and drawing upon their years of experience of working alongside huge OEMs, they have created strong and durable shock absorbers.
The shock absorber is a product which directly equally affects car performance, safety and comfort. Thanks to their commitment to innovative design and manufacturing techniques, Maysan have constantly improved and enhanced their shock absorber products, which are extremely crucial equipment for both the fate of the car and the passengers inside.
For many years the general perception about shock absorbers was that the better they functioned in terms of comfort, the worse they were on a safety level. Maysan Mando have played an important role in changing this perception thanks to their innovative R&D services and OEM work, and have constantly improved the quality of shock absorbers in terms of both safety and comfort.
Obviously, however, this only goes so far however; to ensure the safest and most comfortable drive, shock absorbers must of course be replaced at the necessary intervals of a car's lifespan.

GT Automotive and Maysan Mando: a shared mission
GT Automotive are therefore thrilled to be in partnership with the distinguished and impressive OE quality manufacturer Maysan Mando.
Maysan Mando has the following Mission Statement:
To sustain success in World Markets with both quality products and service
To determine and meet the needs of our customers and employees whilst abiding by the required laws and legislations
To maintain the continuous improvement activities through the work of our R&D and P&D departments
To train all of our employees and support our suppliers development to the upmost level
To be highly competitive with our pricing
To deliver on time
To produce without any compromise on quality
As partners of Maysan Mando, GT Automotive are committed to continually supporting Maysan Mando in the execution and realisation of the above goals, especially in relation to the UK market.