Why Do Crankshaft Pulleys, A Major UK Service Part, Fail ?
Even considering it's status as a major service part in the UK, very little awareness is given to this very important engine part.
To combat this lack of information in the industry, the technical team at GT Automotive have created a basic infographic to raise awareness of some of the most common issues that can cause premature failure of a crankshaft pulley.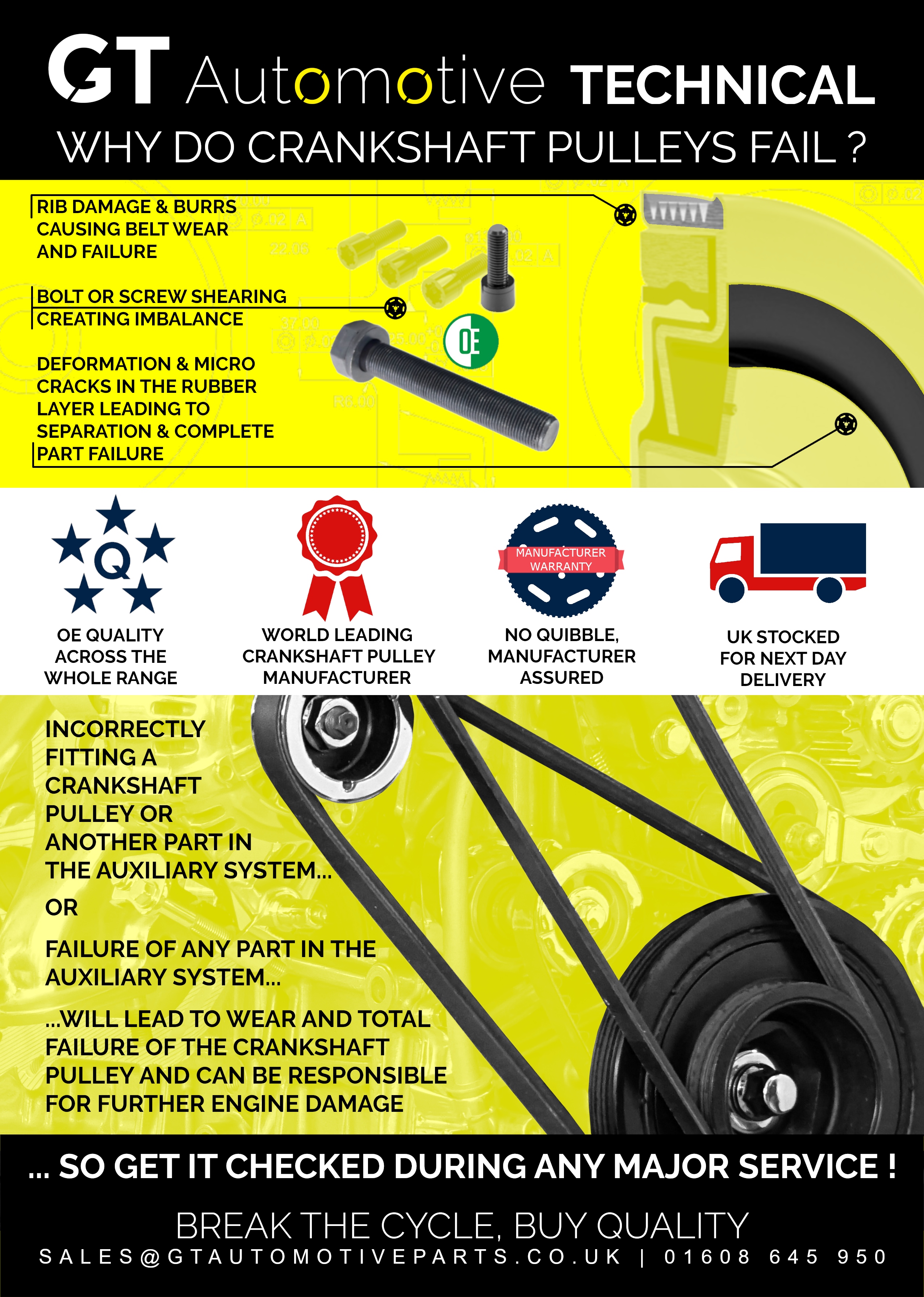 The auxiliary system of an engine isn't one that at first glance seems that complicated or important. It's a few wheels with a belt after all. However, while it may be simple in it's appearance, this system is responsible for letting multiple components in the engine talk to one another; from crankshaft to camshaft, water pump to alternator, several key components from the top to the bottom of the engine rely on this key moving component to stay in sync with one another.
In the best case scenario, a bolt warping under the stress of the engine will start to cause progressively louder noise as time goes by and the fault is left to worsen. At this point you are looking at minimal damage to the rest of the engine, and likely there will be no further issue if worn parts are replaced immediately.
However other failures, while not only very costly, can be fatal to the engine and several key components therein. A TVD (Torsional Vibration Damper) has a rubber layer which prevents the full vibrational stress of the crankshaft being passed to the rest of the engine. This rubber layer degrades over time and can even split the TVD into two independent pieces. This separation means that the timing of the engine is left completely out of sync and, in extreme cases, can cause damage to pistons or camshafts and even the cylinder head itself. With these engine components affected, you could be looking at complete engine failure.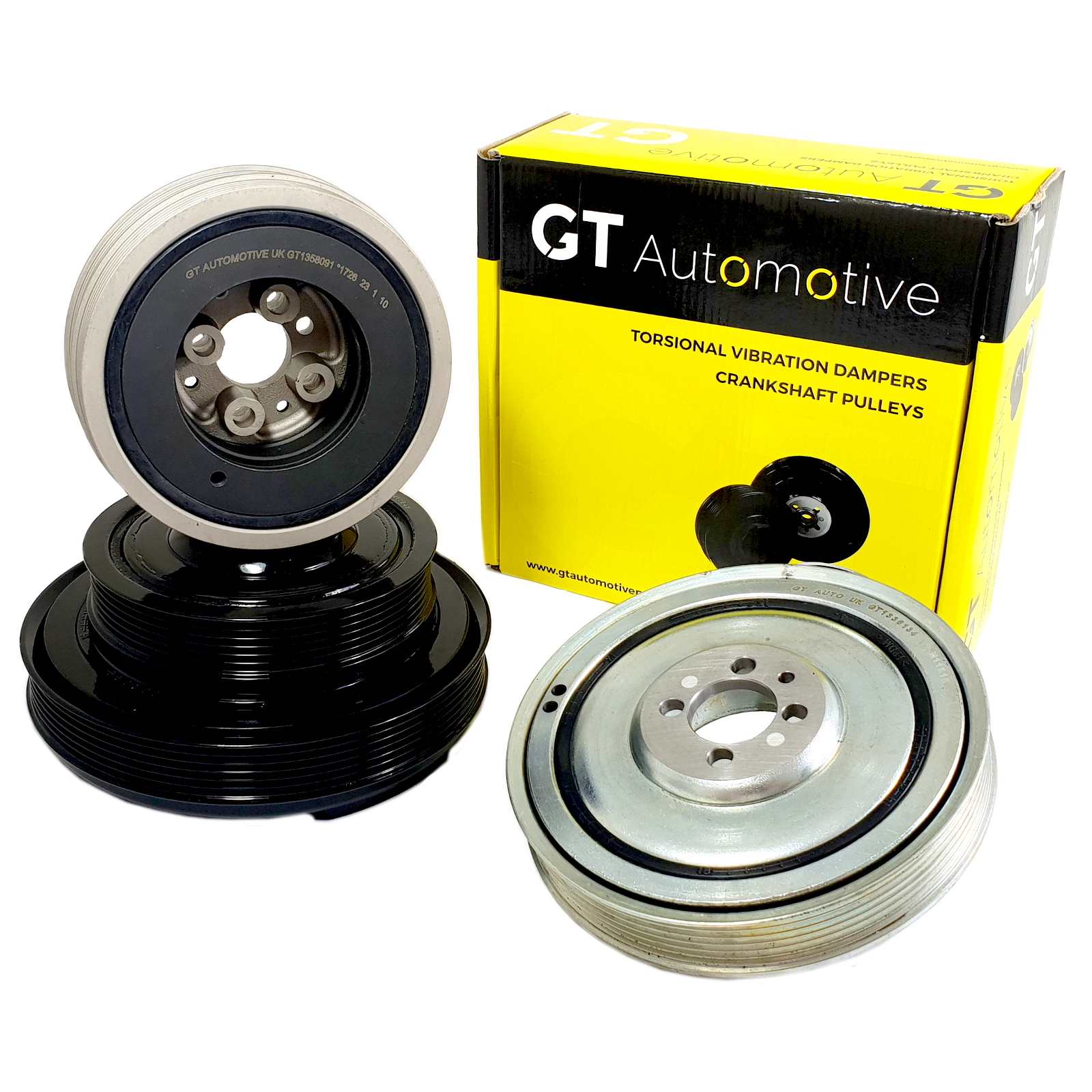 GT Automotive is now a recognised brand nationally. After gaining ground heavily in 2017, a series of key partnerships with A1 Motor Stores, the CAAR Group and Marathon Warehouse Distribution have accelerated growth and awareness even further throughout 2018 and into 2019.
Not only are our parts OE quality, all bolts provided in our kit bundles are from an OE source: This combination ensures longevity of not only your part but contributes to the life of an engine overall. What's more, with Same Day*, Next Day and AM shipping available across the entire range, quality crankshaft pulleys have never been more accessible or affordable.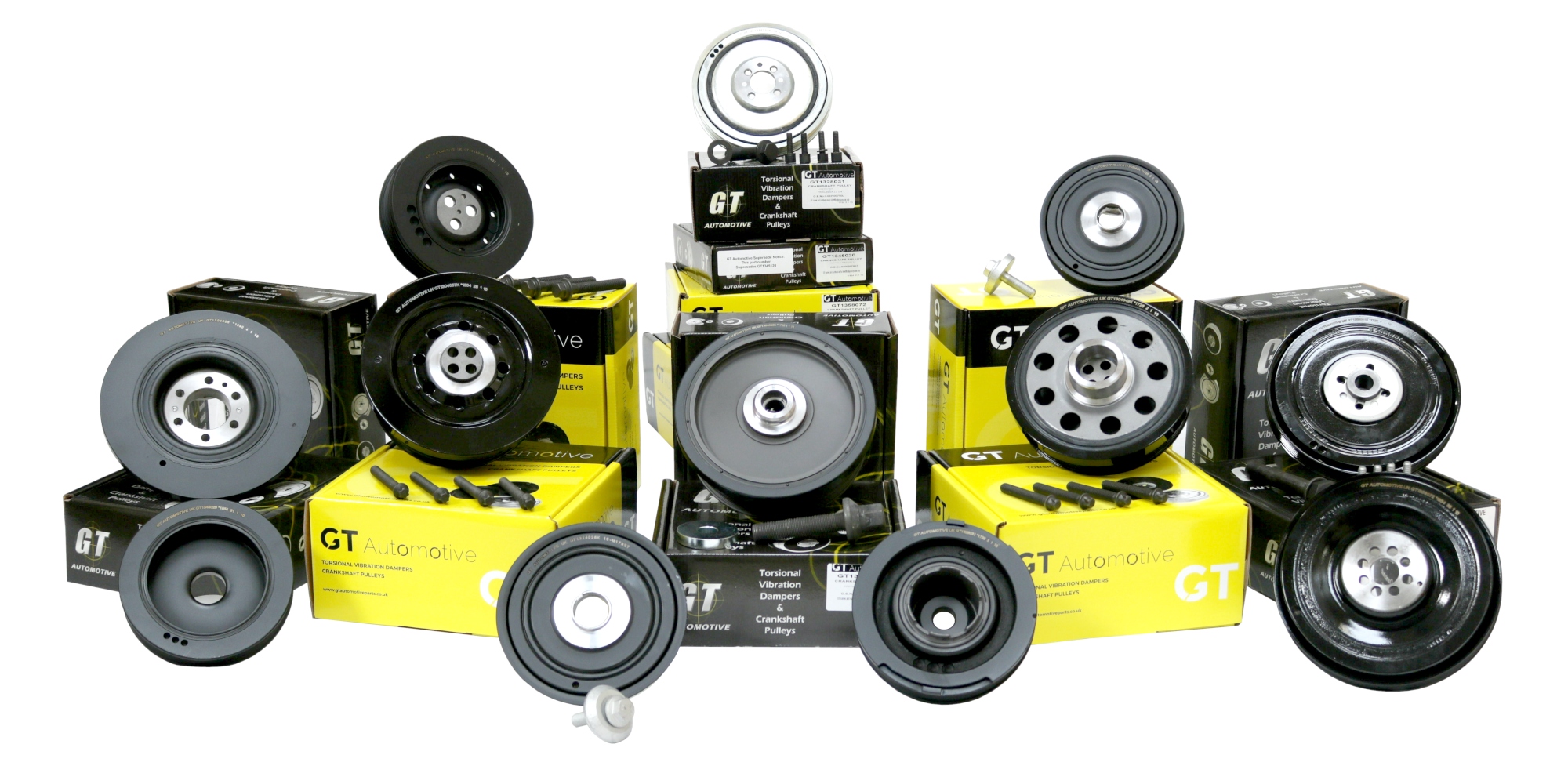 For more information about our Crankshaft Pulley range, please check our Catalogue Page, reach out to us directly through our Contact Us page or contact your nearest A1 Motor Store, CAAR Store or Marathon Hub!
*Same Day shipping service available exclusively through Marathon Warehouse Distribution. Terms will apply.