Warranty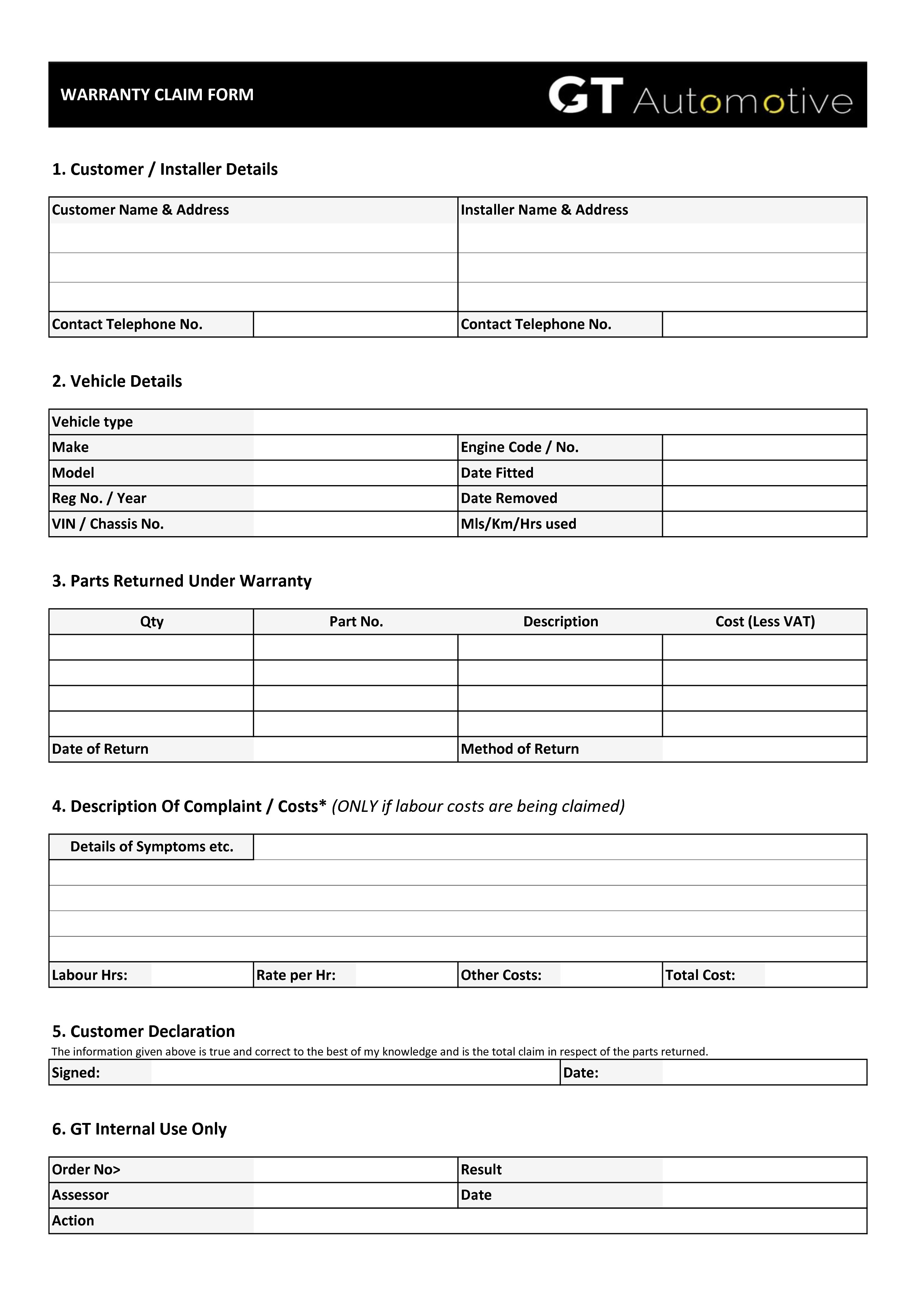 To download the warranty
form, please click here.
Once you have completed the form, please return to sales@gtautomotiveparts.co.uk.
GT AUTOMOTIVE ENGLAND LTD
WARRANTY & TERMS AND CONDITIONS OF SALE 2016
DEFINITIONS AND INTERPRETATION
In these Terms and Conditions, the following words and phrases shall have the following meanings:
"Condition" means any one or more of these Terms and Conditions.
"Goods" means the goods described in the Purchase Order.
"Order Number" means the unique number that appears on the Purchase Order.
"Parties" means GT AUTOMOTIVE ENGLAND LTD and the customer or client.
"You" or "Your" refers to you the purchasing company, customer or client of GT AUTOMOTIVE ENGLAND LTD and your company.
"Us" refers to GT AUTOMOTIVE ENGLAND LTD.
"Buyer" also refers to you the purchasing company, customer or client.
"Price" means the price for the Goods agreed between the two parties prior to order. Then once the purchase order is placed, the price refers to the price on the purchase order.
"Purchase Order" means an order for the purchase of goods served by you, which should include:

The Order Number – a description of the Goods
The date and, if appropriate, time, for delivery of the Goods
Details of the delivery address
Details of your address for invoices
The Price
Any terms applying to the purchase of the goods which are additional to these Terms and Conditions and have been previously agreed between GT AUTOMOTIVE ENGLAND LTD and your company.
Any additional information regarding the order such as packaging requirements or labelling previously agreed between GT AUTOMOTIVE ENGLAND LTD and your company.
GENERAL
All orders placed with GT AUTOMOTIVE ENGLAND LTD will be accepted subject to the following conditions of sale.
Any manufacturer names, product reference numbers and symbols are used strictly for reference purposes only.
GT AUTOMOTIVE ENGLAND LTD is registered in England and has an office in Unit 3 Worcester Road Trading Park, Chipping Norton, OX7 5XW.
GT AUTOMOTIVE ENGLAND LTD's Company Number is 5747379 and the Vat Registration number is 890321923.
ORDERS
To order with GT AUTOMOTIVE ENGLAND LTD you must place a purchase order from your registered company. Information to be included can be seen in "Definitions and Interpretation".
GT AUTOMOTIVE ENGLAND LTD must receive a purchase order by email or letter with your purchase order number.
Purchase orders will be processed immediately and you will be notified straight away if there is a stock issue.
By ordering you declare that you are ordering on a customer bases and all delivery information and company details you provide are accurate to date.
Once the goods have been received, you will not alter, deface, obfuscate or tamper with any of the trade marks, names or numbers affixed to or marked on the goods, nor allow anyone else to do so.
TERMS OF PAYMENT
If you hold a credit account with GT AUTOMOTIVE ENGLAND LTD, payment of invoices will be made in full to us without deductions or set-off in accordance with the payment terms notified by us to you, or if no such terms are advised, not later than the 30th day of the following month after the invoice date.
You guarantee your credit worthiness in placing an order. If after confirmation of the order by us, doubts arise as to your credit worthiness, then all payments will become due immediately unless adequate security can be offered by you.
GT AUTOMOTIVE ENGLAND LTD do not take credit or debit card payments. Methods of payment are by bank transfer (BACS) or a posted cheque.
RISK AND TITLE OF GOODS
Ownership of goods to be delivered by GT AUTOMOTIVE ENGLAND LTD will only be transferred to the buyer when the buyer has paid all monies owning to us in respect of the goods concerned. Until date of full payment has been confirmed, GT AUTOMOTIVE ENGLAND LTD will have all rights and title to the goods.
If the buyer makes default in any of these conditions; if distress or execution shall be levied on the buyer's property, or they shall enter into any arrangement with their creditors, commit any act of bankruptcy, or if the buyer being a limited company passes a resolution to wind up, such companies undertaking property or assets or any part that therefore shall be appointed, GT AUTOMOTIVE ENGLAND LTD shall be entitled forthwith to determine any contract then subsisting and to exercise all or any remedies available to it for recovery of goods and / or payment of any money due.
You will insure the goods against fire, theft or any damage, how so ever caused, until full payment is made in to GT AUTOMOTIVE ENGLAND LTD and the title of goods has been relinquished to yourselves.
DISCLAIMER
GT AUTOMOTIVE ENGLAND LTD reserves the right to alter your discount level at any point, especially in response to any extraordinary weakening of the pound to Euro exchange rate. In the event of any possible changes to your discount, suitable prior notice will be given.
PRICES
If GT AUTOMOTIVE ENGLAND LTD has issued you with a specific price list or discount, this will be honoured unless notice is given. If a price has changed on the point of a purchase order being placed, you will be notified so the price can be amended on the purchase order.
GT AUTOMOTIVE ENGLAND LTD reserves the right to set price levels and discounts on a customer by customer basis. We are under no obligation to sell any item at a particular price.
For goods purchased on our Website, the price you pay is the price displayed on GT AUTOMOTIVE ENGLAND LTD's Website at the time we receive your order apart from the following exceptions:
We list prices Exclusive of VAT. All Prices are exclusive of any other sales tax or duty that maybe applicable which will be payable in addition to the price unless otherwise stated.
While we understand that all of our prices published on our website are accurate, some prices maybe incorrectly listed. If we discover an error in the price of the goods you have ordered we will inform you as soon as possible and offer you the goods at the correct price. We are under no obligation to provide goods or services to you at any incorrect, lower price, even after the acknowledgement of your order, or despatch of the goods or stated performance of the services.
All prices are in Pounds Sterling. Owing to present conditions, orders will only be accepted to the understanding that the prices charged will be those ruling at the date of despatch.
CANCELLATIONS
To cancel an order with GT AUTOMOTIVE ENGLAND LTD, we must receive full written confirmation from the customer.
In the event of items being despatched before the date of having full written confirmation from the customer, Goods delivered will have to be returned at the customers cost and we reserve the right to charge a handling charge of 15% of the total value of the products returned.
GT AUTOMOTIVE ENGLAND LTD shall have no liability for incorrect goods purchased by you the customer. If a fault with what is required is discovered, please contact GT AUTOMOTIVE ENGLAND LTD's Sales team within one hour of the order being placed (Call 01608 654 950).
RETURNS / REFUND OF GOODS (NON-WARRANTY PARTS)
Any goods which have been supplied in accordance with a customer's order, but which are subsequently returned, will only be replaced or credited provided that;
The original GT AUTOMOTIVE ENGLAND LTD parts supplied have been obtained by us.
Parts that were sealed in an individual labelled tamperproof package, if opened, are returned in the same re-selling condition.
Are marked only with our part numbers. Parts with competitor or customer part numbers will not be accepted for return or credit.
Any part returned wrongly boxed or is found to be the incorrect application to what is claimed to be being sent back will be non-refundable and sent back to you with your next order, or sooner if you are willing to pay for the postage.
If your company does not use a UK courier, GT AUTOMOTIVE ENGLAND LTD can charge for our own collection that will be charged to your account at the current courier's rate. Any free replacement will be sent with free postage.
Non-faulty goods to be credited will be subject to a 15% handling fee.
All distress or VOR purchases, unless faulty, are non-refundable and will not be considered for return and credit.
CLAIMS
Claims for non-delivery must be made within 7 days from the date of invoice.
Claims for pilferage or damage during transit must be advised to the courier upon receipt of the goods immediately. Then please notify GT AUTOMOTIVE LTD within three days of the receipt of goods so a claim can be made against the courier.
If you the customer have arranged your own collection of goods, it will be your responsibility to claim against any pilferage or damage to goods that arrive with you.
STOCK CLEANSE
Any stock cleanse of GT AUTOMOTIVE ENGLAND LTD products must have the prior agreement of with us. The value of the goods will not exceed 15% of approved client's annual net good purchases during any year 1st January until 31st December.
Any product returned that is deemed to be in a resalable condition, will not be refunded. If repackaging is required, this will be charged and a reduction made to the credit of the returns.
The product values will be credited from the clients last available invoice price. If never purchased, items will be returned. All remaining items less any repackaging charge will be credited and set against a compensatory order of the same value.
WARRANTY
Unless otherwise agreed, all products are covered under warranty with GT AUTOMOTIVE ENGLAND LTD for a period of one year from the date of invoice or for 12,000 miles, whichever comes first. With some products this may vary; in which case you will be notified or this section will be amended accordingly. This will depend on what you are purchasing from us.
Any goods deemed to be faulty by you the customer, must be returned to our warehouse facility as soon as you suspect the potential fault and you must complete a "Warranty Claim Form" (please ask for this if you do not have a copy) and send with the faulty goods or email it to us at the time of sending.
In some cases GT AUTOMOTIVE ENGLAND LTD may request that you also send back other products that come in contact with the part being claimed on (i.e. the lifters with a camshaft). In some cases, if you cannot provide the other parts it may invalidate the warranty or impede us from dealing with your claim swiftly.
Goods that are found faulty due to manufacture or material defects will be replaced free of charge instantly on a one for one basis. The delivery of such free replacements will also be free. However, the manufacturing plants or GT AUTOMOTIVE ENGLAND LTD cannot be held responsible for any faults caused by product fitment.
If any associated labour claims are being made against a product, this must be done in writing and supported by the original documentation (bills, original fitting documentation etc.) along with the relevant part to GT AUTOMOTIVE ENGLAND LTD's address.
If it is agreed that the product was fully at fault and a labour claim is accepted, we will raise a credit note for the billed amount and assign it to your account.
Once a claim has been made and we have examined the returned products, you will be notified if your claim has been accepted and we will issue a claim report with the results of our findings.
DESCRIPTION
Every effort has been made to ensure that the goods described and information provided in our catalogues and on our website are accurate. However, no warranty claim or responsibility will be accepted from GT AUTOMOTIVE ENGLAND LTD for any errors, miss-description, or any resulting damage, as all information posted is for reference purposes only.
DELIVERY
At present all orders are delivered by GT AUTOMOTIVE ENGLAND LTD's preferred courier, with prices that can change from time to time. For any guaranteed next day deliveries, the orders must be placed before 12pm to ensure a 24hr delivery service to mainland U.K permitting our courier services are operating. Although we will always endeavour to get the products to you as quickly as possible, whatever service we are offering, we cannot take responsibility for issues our courier may have. Once the delivery is with them, it is out of our control.
Any Claims that any goods have been delivered damaged or do not merely comply with their description, should be notified by you to us (and where appropriate, to the courier) within three days of their delivery. If the product delivered is incorrect, provided that you return such goods to us in resalable condition, we can offer a credit note for the returns and the correct replacement parts will be sent to yourself.
QUOTATIONS / PROMOTIONS
Unless otherwise stated promotions and quotations are valid for a time period of 30 days.
TERMINATION AND SUSPENSION
We may at our discretion, suspend or terminate the supply of any goods or services if you fail to make any payment when it is due, or otherwise default in any of your obligations under this terms and conditions agreement, or any other agreement made between GT AUTOMOTIVE ENGLAND LTD and yourselves in writing.
Upon termination of supply agreement for any reason:
We will not be obliged to supply any goods and services ordered by you, unless already paid for.
All payments payable to us will become due immediately upon termination of the agreement, despite any other provision.
GT AUTOMOTIVE ENGLAND LTD PERFORMANCE RANGE
Due to the classification of this product being of a performance application, GT AUTOMOTIVE ENGLAND LTD does not conduct any warranties throughout the GT AUTOMOTIVE ENGLAND LTD performance range.
GT AUTOMOTIVE ENGLAND LTD will not take responsibility for any consequential damage undertaken by anyone except the staff of GT AUTOMOTIVE ENGLAND LTD, damages or loss of property or equipment, cost of purchased or replacement goods.
The Installation of GT AUTOMOTIVE ENGLAND LTD components will be completely at the discretion of the customer and GT AUTOMOTIVE ENGLAND LTD will not take responsibility if any fault was to arise during, or after, the component has been installed.
However, GT AUTOMOTIVE ENGLAND LTD can reserve the right to adjust a product with the advisable enhancement without incurring liability with respect to products similar in its range that have been previously manufactured. GT AUTOMOTIVE ENGLAND LTD must underline that performance products manufactured to be sold under our brand to you the customer, are fundamentally for use of non-road vehicles only. All road users wishing to use these products must review the Laws and Regulations applied within their country as to where these Components shall be used.